Electromagnetic Fields and Breast Cancer on Long Island
The information on this page is archived and provided for reference purposes only.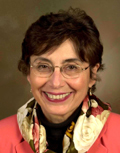 M. Cristina Leske, M.D., M.P.H.
Stony Brook University, Stony Brook, NY
Dr. Cristina Leske, of Stony Brook University, and colleagues conducted a population-based case-control study to determine if electromagnetic fields (EMF) are associated with increased risk for breast cancer. In 2003, they reported finding no association between residential exposure to EMFs and increased risk for breast cancer.
EMF levels, as measured by in-home spot, 24-hour, ground-current measurements, and wire codes did not differ between women who were diagnosed with breast cancer (cases) and women who did not have the disease (controls). Furthermore, no differences were observed between the two groups when the data were analyzed by controlling for age, family history of breast cancer, personal history of benign (noncancerous) breast disease, number of children (parity), and education.
The study population consisted of 576 women (cases) who were newly diagnosed with breast cancer during the one-year period beginning August 1996, and 585 women (controls) who did not have the disease. All of the women were under 75 years of age and had resided in their current homes in Nassau and Suffolk counties for at least 15 years before the time of diagnosis of breast cancer (cases), or at the time they were identified (controls) for the study. The study population was drawn from the larger study population of the Breast Cancer and the Environment on Long Island Study. (The participation rate was low among women age 75 and older in the larger study, thus they were not included in the EMF study.)
The researchers conducted a comprehensive home assessment of the study participants' exposure to EMFs through personal interviews and by taking a variety of EMF measurements within and around the outside of the home. The 24-hour, spot, and ground-current measurements were taken with specially designed equipment to measure EMFs. EMFs were measured in the following ways:
24-hour measurements were taken in the bedroom and the room the participant spent the most time in, aside from the kitchen (living room, den, most lived-in room);
spot measurements were taken at the front door, in the bedroom, and the most lived-in room;
ground-current magnetic fields, which are sometimes present in a home's electrical grounding system were measured at the center of the bedroom and the most lived-in room; and
wire coding (or wire mapping) was performed to classify the type of wiring surrounding a home and the distance from this wiring; this information was coded using the Wertheimer-Leeper and Kaune-Savitz systems.
These findings are similar to those reported by scientists at Fred Hutchinson Cancer Research Center
in 2002. Both of these studies included a comprehensive set of in-home measurement of EMF exposure and wire codes. In addition, Dr. Leske's study included ground-current magnetic field measurements. Furthermore, the study included only long-term residents, with the objective of assessing exposures over an extended time period. The study also is notable for its large sample size and high participation rates, and use of the best available methods to estimate past exposure to magnetic fields in the home.
In additional analyses, the researchers found no association between use of electric blankets and risk of breast cancer. No trends were seen with increased duration of use, frequency of use, or other indicators of more intense exposure to EMFs. Also, electric blanket use was not associated with hormone receptor status of the tumor. The findings from these very comprehensive analyses are consistent with results from most other studies. In an editorial accompanying publication of these results, Dale Sandler, Ph.D., of NIEHS, commended the study for its high quality.
The researchers also have analyzed data on exposure related to shift work and light-at-night. They found no association between overall shift work and risk for breast cancer. Looking at evening and overnight shift work separately, women who were overnight shift workers were found to be at lower risk for breast cancer than women who never worked shifts. In addition, the researchers found that women who reported rising frequently during the week and turning on lights multiple times per night were at increase risk for the cancer, a finding that has not been reported before.
Plans are to conduct analyses on occupational exposures and use of electrical appliances.
Published Report
Funding / Timeline
The information on this page is archived and provided for reference purposes only.