Breast Cancer and the Environment Research Program
---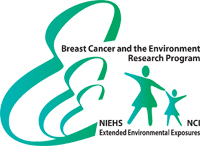 Overview
The Breast Cancer and the Environment Research Program (BCERP), a joint effort co-funded by the National Institute of Environmental Health Sciences (NIEHS) and the National Cancer Institute (NCI), is the next phase of a program that began with the Breast Cancer and the Environment Research Centers (BCERC) in 2003. The BCERP supports a multidisciplinary network of scientists, clinicians, and community partners to examine the effects of environmental exposures that may predispose a woman to breast cancer throughout her life. The network engages both laboratory and population-based research to study puberty and other "windows of susceptibility" or specific time periods when the developing breast may be more vulnerable to environmental exposures.
Learn more about the BCERP

.
Funded Projects
EGRP is co-funding the BCERP network with NIEHS

and partnering with NCI's Division of Cancer Biology

on this effort. The program has three parallel efforts: the Puberty Study

, an ongoing multi-site epidemiologic cohort study with more than 1,200 young girls that is looking at determinants of pubertal maturation; the Windows of Susceptibility Studies

, (laboratory and epidemiological) addressing environmental influences on breast cancer risk throughout the lifespan; and a Coordinating Center

with responsibility for organization and communications for the BCERP, and serving as a central repository and clearinghouse for cross-site data in the Puberty studies.
Funding Opportunities
On November 3, 2014, the National Institutes of Health (NIH) published two Requests for Applications (RFAs) that together will constitute the Breast Cancer and the Environment Research Program (BCERP) Consortium:
Environmental Influences during Windows of Susceptibility in Breast Cancer Risk – expires January 29, 2015, unless reiussued
Coordinating Center for the Breast Cancer and the Environment Research Program – expires January 29, 2015, unless reissued
Publications
The BCERP has published more than 50 scientific manuscripts. View a list of BCERP publications

.
Additionally, the BCERP Community Outreach and Translation Cores (COTCs) have developed a wide range of outreach and educational materials related to normal breast development and how exposure to chemicals that act like hormones in the body during specific developmental periods might influence breast cancer susceptibility. View BCERP education and outreach materials

.
A progress report summarizing research from the first phase of the BCERP, the Breast Cancer and Environment Research Centers (BCERC), was presented in 2009 to NCI's Board of Scientific Advisors and the NIEHS National Advisory Environmental Health Sciences Council. View the 2009 BCERC Progress Report [PDF - 3 MB].
Archived News
Contacts
NCI Contacts
For cancer epidemiology questions:
For basic science questions:
NIEHS Contacts
For cancer epidemiology questions:
For basic science questions: