Job Opportunities in Cancer Epidemiology and Genomics Research
On this page...
Work With Us
Opportunities to join the Epidemiology and Genomics Research Program are listed below as they become available. For federal positions, EGRP will post invitations to submit letters of interest ahead of positions being listing on usajobs.gov, where all federal positions must be advertised. Individuals interested in joining EGRP, either as a federal employee or fellow, are encouraged to speak with current staff throughout the application process.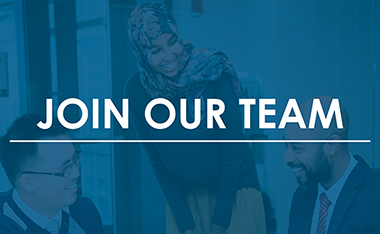 Leadership Positions
EGRP branch chiefs enjoy a scientifically energizing and collegial environment with opportunities to manage and mentor engaged scientific and programmatic staff, fellows, and trainees; develop research and funding priorities to cultivate a diverse portfolio of grant-supported research; lead and participate in crossdisciplinary collaborations in public, private, and academic sectors; develop national and international scientific programming; conduct independent research, publish, and present at professional meetings; and advance the public health agenda in disease prevention and control.
Chief, Environmental Epidemiology Branch
The National Cancer Institute (NCI) is seeking an innovative leader to serve as Chief, Environmental Epidemiology Branch (EEB), within the Epidemiology and Genomics Research Program (EGRP), Division of Cancer Control and Population Sciences (DCCPS). EEB promotes and supports epidemiologic research on modifiable risk factors, with an emphasis on environmental exposures, and cancer in diverse populations to inform and advance the prevention and control of cancer. For more information, see https://epi.grants.cancer.gov/environmental.
Background
The Branch Chief, in partnership with the EGRP leadership team and DCCPS senior staff, provides authoritative scientific leadership and expertise in the planning, development, direction, and administration of an integrated program of the highest-quality environmental epidemiology research. The Branch Chief will supervise and/or oversee a staff of program officers (health science administrators – cancer, environmental, and nutritional epidemiologists) and trainees/fellows, and manage an extramural portfolio of grants, cooperative agreements, and collaborations with federal partners. The EEB chief develops and leads transdisciplinary, cross-agency initiatives of national and international scope focused on environmental exposures and risk in NIH-supported cancer research areas. The EEB chief will report to the Associate Director, EGRP, Dr. Kathy Helzlsouer. For organizational details, see https://epi.grants.cancer.gov/about.
Qualification Requirements
Qualified candidates should possess a doctoral degree (PhD, ScD, MD or equivalent doctoral degree) with training or experience in epidemiologic research, particularly environmental epidemiology, and have a record of oversight and/or authorship of exceptional research, and relevant supervisory experience. Candidates must meet US Office of Personnel Management educational and qualification standards for the scientific discipline directly related to the position and must furnish proof of educational (i.e., official transcripts) and other (e.g., licensure, Educational Commission for Foreign Medical Graduates) qualifications.
Applicants should demonstrate experience and leadership skills in developing and managing environmental epidemiology programs, have strong fiscal responsibility, have an understanding of new trends and technologies in environmental health and cancer epidemiologic research, and evidence of the ability to collaborate within and between complex organizations. Applicants must be a US citizen or US national. Foreign nationals or legal permanent residents are not eligible for consideration.
Salary/Benefits & Location Information
The anticipated full-time position is based in Rockville, Maryland, and will be classified as a GS-15 Supervisory Health Scientist Administrator. Annual compensation for this position will be within the Title 5 General Schedule (GS) Pay Plan. The salary range for a Supervisory GS-15 within the locality pay area of Washington-Baltimore-Arlington, DC-MD-VA-WV-PA, ranges from $148,484 up to $176,300.
A recruitment or relocation bonus may be available, and relocation expenses may be paid. A full package of federal Civil Service benefits is available, including retirement, health and life insurance, long-term care insurance, leave, and a Thrift Savings Plan (401K equivalent). The successful candidate will be subject to a background investigation and public financial disclosure requirements.
At the discretion of the supervisor and NIH policy, you may be eligible for workplace flexibilities, which may be requested in accordance with NIH Workplace Flexibilities guidance: https://hr.nih.gov/working-nih/workplace-flexibilities.
How to Apply
Please submit a letter of interest and current curriculum vitae, along with contact details for three references, to Dr. Pothur Srinivas at Pothur.Srinivas@nih.gov, with the subject line "EEB Chief Position."
DCCPS is deeply committed to building a diverse health sciences workforce that maintains, fosters, and promotes an equitable, inclusive, accessible, and nurturing work environment. Diverse teams foster scientific innovation, improve the quality of research, contribute their lived experiences to a robust learning environment, advance the likelihood that underserved, or health disparity populations participate in and benefit from health research, and enhance public trust. To that end, DCCPS is seeking a dynamic leader to serve as a highly valued member of NCI to lead EEB.
HHS, NIH, and NCI are Equal Opportunity Employers.
---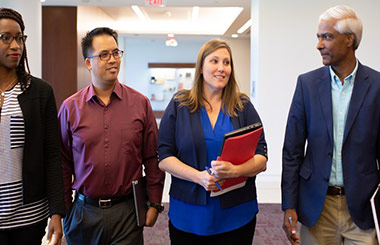 Program Director Positions
These are positions for scientists to provide scientific management of cancer epidemiology grants and influence the trajectory of research in cancer epidemiology, and have significant collaboration and leadership opportunities with scientists across NIH involved in large scientific endeavors and initiatives in areas of relevance to cancer epidemiology.
Program Director Sought for EGRP - Apply by May 26, 2022
The Epidemiology and Genomics Research Program (EGRP) in the National Cancer Institute's (NCI) Division of Cancer Control and Population Sciences (DCCPS) welcomes letters of interest from qualified individuals interested in a Program Director (Health Scientist Administrator) position to lead an innovative portfolio of population-based research in a scientifically energizing and collegial environment.
Important Note: This is an announcement of the vacancy. Applications must be submitted through usajobs.gov to be considered. EGRP will consider candidates who apply to the Health Scientist Administrator job announcements below. The announcements are open from May 16-26, 2022.
Delegated Examining (Open to the Public)
Merit Promotion (Open to Status Candidates)
About EGRP
EGRP supports research in human populations to understand determinants of cancer occurrence and outcomes and translate findings to clinical and public health interventions. Learn more about EGRP's research areas and the active grants in EGRP's portfolio.
Position Description
Program Directors (Health Scientist Administrators) in EGRP have ample opportunities to:
Manage a portfolio of research conducted at academic institutions across the United States and internationally in topics such as clinical, environmental, genetic, nutritional epidemiology, and cancer survivorship;
Identify scientific gaps and opportunities in NCI's research portfolio and develop novel research and funding priorities to cultivate a diverse portfolio of research;
Lead and participate in cross-disciplinary collaborations across NIH and in public, private, and academic sectors;
Develop national and international scientific programming (e.g., symposia, special journal issues and supplements, conferences, and workshops); and
Mentor fellows.
Qualifications
Qualified candidates will have a doctoral degree (Ph.D., M.D., Dr.P.H., or equivalent) in epidemiology with expertise in cancer epidemiology or specialty areas of epidemiology as they relate to cancer research (e.g., clinical, environmental, genetic, and nutritional epidemiology). The candidate should have experience leading scientific projects, be able to work effectively with a variety of transdisciplinary groups and organizations, have experience working independently and collaboratively in scientific teams, excellent public speaking and writing abilities, and a track record of peer-reviewed publications.
Announcement Details
The anticipated full-time position is based in Rockville, Maryland, and is classified as a GS 12/13/14 on www.usajobs.gov. Excellent benefits will be provided. For more information about federal employment, see https://www.usajobs.gov/Help/working-in-government/. This announcement will be for a career position within the US government and requires US citizenship. This position will be subject to a background investigation. Educational qualifications verified by official transcripts and submission of a Confidential Financial Disclosure OGE Form 450 will be required.
The United States Government does not discriminate in employment on the basis of race, color, religion, sex (including pregnancy and gender identity), national origin, political affiliation, sexual orientation, marital status, disability, genetic information, age, membership in an employee organization, retaliation, parental status, military service, or other non-merit factor. Learn more.
For questions about the position, please contact Pothur Srinivas, Ph.D., M.P.H., Deputy Associate Director, EGRP, at pothur.srinivas@nih.gov.
---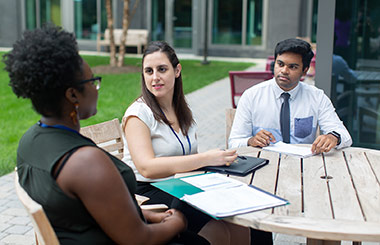 Cancer Research Training Award (CRTA) Fellowship Positions
These fellowship positions offer a rich learning experience that afford successful candidates the opportunity to work with teams of scientists and public health professionals at the NCI, National Institutes of Health (NIH), and institutions around the country.
Clinical and Translational Epidemiology Fellowship
Communication Fellowship
Diet, Physical Activity, and/or Sleep Assessment Fellowship
Genomic Epidemiology Fellowship