Overview
The NCI Cohort Consortium is an extramural-intramural partnership formed by the National Cancer Institute (NCI) to address the need for large-scale collaborations to pool the large quantity of data and biospecimens necessary to conduct a wide range of cancer studies. Through its collaborative network of investigators, the Consortium provides a coordinated, interdisciplinary approach to tackling important scientific questions, economies of scale, and opportunities to quicken the pace of research.
The 2021 NCI Cohort Consortium Annual Meeting
The 2021 Cohort Consortium Annual Meeting was held virtually on November 15-16, 2021.
For more information about the meeting, please visit the Annual Meeting website. A recording of each session is available in the agenda. A meeting summary is coming soon.
NCI Cohort Consortium Resources for Researchers
Advancing Collaborative Cancer Epidemiology Research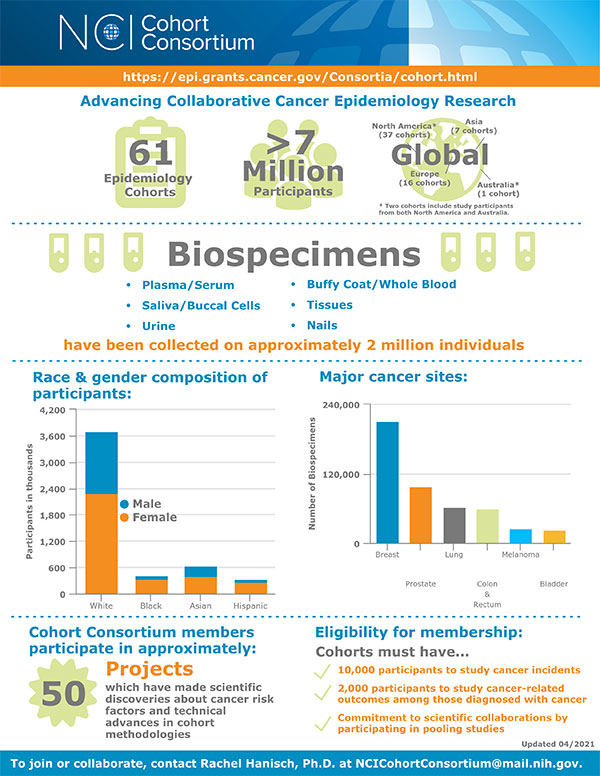 Figure: 61 Epidemiology Cohorts (37 in North America, 7 in Asia, 16 in Europe, and 1 in Australia; Two cohorts include study participants from both North America and Australia) with > 7 Million Participants (male, female, white, black, Asian, Hispanic); Biospecimens (inc. plasma/serum, saliva/buccal cells, urine, buffy coat/whole blood, tissues, and nails) have been collected on approx. 2 million individuals; Thousands of biospecimens for major cancer sites (inc. breast, prostate, lung, colon & rectum, melanoma, and bladder); Cohort Consortium members participate in approximately 50 projects which have made scientific discoveries about cancer risk factors and technical advances in cohort methodologies; For membership, Cohorts must have 10,000 participants to study cancer incidents, 2,000 participants to study cancer-related outcomes among those diagnosed with cancer, and commitment to scientific collaborations by participating in pooling studies; To join or collaborate, contact Rachel Hanisch, Ph.D., at NCICohortConsortium@mail.nih.gov.