Membership of the NCI Cohort Consortium
On this page...
Membership Eligibility
Application for voting membership shall be open to the Principal Investigator of any cancer epidemiology cohort:
That has a minimum of 10,000 study participants, in which cancer occurrence is accurately assessed, and has available some risk factor data; and
Who commits to scientific collaboration by being willing to contribute data for scientific research and consider participating in pooling studies.
Members must also abide by the NCI Cohort Consortium's Bylaws.
Membership is granted after completion and receipt of a membership application. All memberships shall be granted upon a majority vote of the Steering Committee. If interested in joining the NCI Cohort Consortium, contact Chinonye (Nonye) Harvey, Dr.P.H., M.P.H.
Current Members
The NCI Cohort Consortium membership is international in scope. It includes investigators responsible for more than 40 high-quality cohorts who are studying large and diverse populations in more than 15 different countries.
The purple regions on the map below represent the locations of populations that NCI Cohort Consortium members are currently studying.
Map of NCI Cohort Consortium Membership by Continent, 2018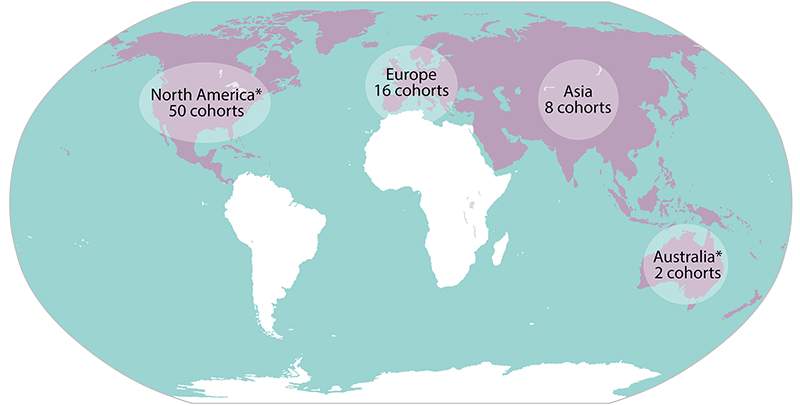 The Breast Cancer Family Registry (BCFR) Cohort and the Colon Cancer Family Registry Cohort (CCFRC) include study participants from both North America and Australia.
Member List
A
B
C
E
G
H
I
J
M
N
P
R
S
U
V
W