Gene-Environment Research and Cancer Epidemiology
---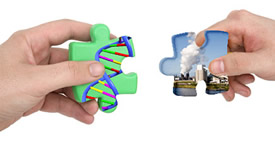 Image courtesy of the National Institute
of Environmental Health Sciences (NIEHS)
Overview
Risk of most cancer types are determined by a complex interplay of genetic and environmental factors. Recent studies provide theoretical and empirical evidence that additional genetic and environmental factors can be identified in studies that examine gene-environment (GxE) interactions. More importantly, GxE interaction research has the potential to facilitate insights into biological mechanisms and strategies for cancer prevention and control. Despite progress, several challenges remain for performing these studies. These challenges stem, in part, from the complex, evolving, and expanding nature of the genetic and environmental data collected.
The Epidemiology and Genomics Research Program (EGRP), at the National Cancer Institute's (NCI) Division of Cancer Control and Population Sciences (DCCPS), supports extramural research that investigates both genetic and environmental factors that may contribute to the etiology of cancer and/or impact cancer outcomes.
Funding Opportunities
NCI-sponsored Funding Opportunity Announcements (FOAs) related to gene – environment interactions include:
Secondary Analysis and Integration of Existing Data to Elucidate the Genetic Architecture of Cancer Risk and Related Outcomes – expires May 8, 2020, unless reissued
Secondary Analyses of Alcohol and Chronic Disease – expires September 8, 2019, unless reissued
Exploratory Grants in Cancer Epidemiology and Genomics Research – expires May 8, 2019, unless reissued
EGRP also encourages investigator-initiated grant applications on this topic.
EGRP joins with other NCI Divisions, Offices, and Centers and other Institutes and Centers at the National Institutes of Health (NIH) to fund grant applications submitted in response to FOAs.
View the full list of epidemiology and genomics research FOAs.
The National Institute of Environmental Health Sciences (NIEHS) and the National Human Genome Research Institute (NHGRI) also sponsor FOAs related to gene-environment research.
Research Resources
Resources and tools specific to GxE research, or which provide specific modules for GxE studies, and analysis are listed below.
---
Analytical Tools
---
Programs and Macros for Estimating Power
---
Selected EGRP GxE Publications
A workshop held on October 17-18, 2014 by NCI and the National Institute of Environmental Health Sciences (NIEHS), in conjunction with the annual American Society of Human Genetics meeting, explored new approaches and tools developed in recent years for GxE interaction discovery. Following this workshop, a group of participants collaborated to develop a series of scientific manuscripts that will highlight current and critical issues and themes in GxE research that need additional consideration, including the topics of improved data analytical methods, environmental exposure assessment, and incorporation of functional data and annotations.
Some additional GxE publications by EGRP and other authors follows:
Workshops
EGRP co-sponsors workshops and meetings to convene experts in the fields of cancer epidemiology and environmental research to review the state-of-the-science, identify research gaps, and establish scientific agendas/priorities for the future, such as:
Contacts
For general questions about EGRP's interests in gene-environment research, contact Leah Mechanic, Ph.D., M.P.H.
For questions about the following aspects of GxE research, contacts include: